A menhir, a dolmen and some caves


I discovered I was only a short distance from a few neolithical features, and as you can tell from the title these were a menhir, a dolmen and an old cave settlement at the top of a hill.
To be honest I'm not sure if the caves would count as neolithic, you'd have to ask the experts, but first, and looking back, best overall was the menhir - or what some would call a standing stone.

I only had to make a short detour to find it and it was situated on a kind of plateau area. On the path up to it there was a lively stream of water coming down at the roadside. I soon found the stone, set in the middle of a lovely opening of grass, it is obviously a well loved stone, well tended and respected. I couldn't help treating the stone a little bit like a person, saying 'hello' to it and engaging in a bit of general chit chat, the stone didn't answer me back but I know that if it could have it would, which is enough really. I sat down beside it and ate a banana and drank a bit of water, but I didn't stay too long because I had to go and see the dolmen which was only a few hundred yards away.
I backtracked down the hill and crossed over the main track into some woodland.
I can definitely say that walking around this area, on one's own without too many distractions one was sometimes hit by the ambience or mood of a place, obviously I can't say for certain if it was actually the location or whether it was just some endogamous ambience or mood being thrown up, but whatever it was it was a phenomena I noticed in several other places during my wanderings around Sancy, in some places I was struck by a sense of peacefulness, in others a sense of darkness, but here, as I entered the woods I was struck by a sense of something a bit sad, tragic almost, the trees here for the most part were quite young, and I wondered why that was, I seem to remember one old tree though.
Anyway, there's always the chance I was pre-empting my experience of the dolmen, obviously if there was a dolmen here this place is of ancient significance, and in the olden times it would have been more important than now, so perhaps the whole place was sad for being neglected or I became sad in an eisegesic fashion.
I found the dolmen or properly known as Dolmen de la Pineyre elev.947m.
For those who aren't sure a dolmen is a structure of, roughly speaking, of three upright stones and another stone for a kind of roof.



As you can see the dolmen is a bit on the collapsed side, but I promise it wasn't me, that's exactly how I found it.

After having a good old look round I moved on toward the next feature on my recently improvised itinerary.

In the title I have called them caves, but really that is quite inaccurate, for they surely are, for the most part, of human construction, but it seems an age for their construction is impossible to say. I've since done a bit of research (since starting writing this page!) and archaeologists have determined that they have been occupied and well used from around 4000 years ago right through to the middle ages, there was a castle here also in the vicinity, but no trace of it remains today, but, like I say, I haven't been able to determine a construction date of these '

Grottes

', they could be very very old.

Anyway, I'm getting a bit ahead of myself. I left the dolmen and walked further through the forest until I came, quite suddenly, to a steep climb, almost a scramble really. I clambered up and was really quite surprised, firstly by the view (see the picture at the top of the page) of St.Nectaire, then turning looking west toward Murol and Lac Chambon, and then realising the where I was - which took a bit of climbing down again to find the main footpath up to the cave complex. So I found these '

Grottes

' to be quite expansive, carved out of the bare rock, and the interior was connected by means of several doorways to reveal the various rooms, really quite an odd place.

I didn't get any photos of the inside but there are a few if you follow this

link

.

I left the '

Grottes

' behind and made my way down into St. Nectaire, a steep descent of about 200m, by this time, in the afternoon sun I was very tired, and looking forward to getting back to the campsite.

I stopped in town to buy a baguette, but was a bit disappointed as it broke in half soon after I left the shop.

Not much really happened after this, it was a boiling hot evening and I was in bed as soon as it was dark. But if you want to know what happened the next day

click on this link now!
Powered by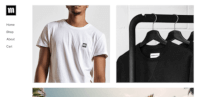 Create your own unique website with customizable templates.